CRYSTAL RIVER CRUISES TO LAUNCH IN MARCH 2018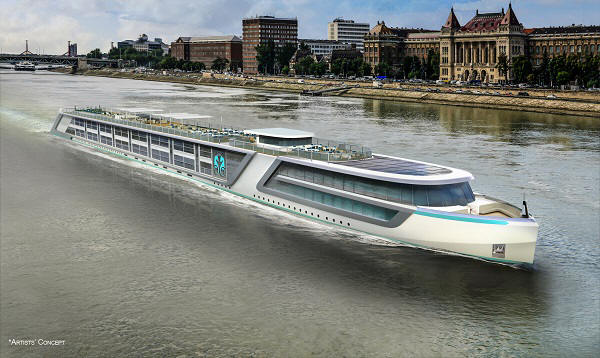 CRYSTAL River Cruiseshas today unveiled detailed plans for its collection of two Crystal river cruise vessels, which will launch in Europe in March 2018.
The new river series of luxury vessels will boast a yacht-like design and feature larger accommodations and space-to-guest ratio than any other river cruise vessel currently in service. The six-star all-inclusive service that Crystal is renowned for will of course be included, plus the line will offer a Fresh approach to traditional river cruise itineraries and experiences.
Both 70-suite luxury river-yachts will feature:
250 square-foot guest suites with walk-in wardrobes, American king size beds and bathrooms with double vanities

Two 500 square-foot Penthouse Suites with added comforts and conveniences

Spacious public areas, including Palm Court with dance floor and glass domed roof and a well-appointed fitness centre and spa
Crystal's new river vessels will each offer itineraries that maximize time in port, allowing for meaningful shore-side excursions and experiences. This will afford Crystal guests Front-row access to some of Europe's most charming cities without port congestion, as Crystal deviates FROM the traditional river cruise routes.
In order for guests to maximise both the daytime and evening experiences ashore, a portion of each itinerary will include sailing along some of the most picturesque rivers in central Europe during daytime hours. Destination immersion is key with Crystal's river cruise itineraries and this timing will offer guests an opportunity to enjoy the nightlife in select destinations, including France, Germany, Switzerland, Holland, Belgium, Austria, Slovakia, Hungary, Croatia, Serbia, Romania and Bulgaria.
Days in port with Crystal River Cruises will offer guests the immersive Crystal Adventures as well as its newest shore-side programme: Active Exploration Adventures. These experiences are tailored for guests wanting a high-intensity shore-side activity. Crystal is offering a complimentary active excursion for guests to explore the splendid European landscapes while staying fit on their holiday. For guests that wish to create their own active adventure, both vessels will carry bicycles (electric and manual), Segways and more. A luxury yacht tender will also be available for private yachting experiences that take guests to even more secluded areas within the destinations.
Register Your Interest In Crystal River Cruises
Itineraries, fares and bookings for Crystal River Cruises will be available FROM December 1, 2015, but you can register your interest with The Cruise Line today. Please call one of our Luxury River Cruise Experts on 1-800-845-1717, alternatively you can fill out the enquiry form on ourwebsite.