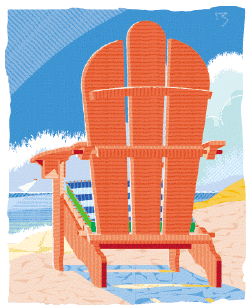 The London-based marine interior design firms Tillberg Design and the Design Team created detailed specifications for a multi-million dollar contract to supply nearly 5,000 works of art for the pleasure of the 2,620 guests aboard the 150,000-ton ship. The contract was awarded to the Netherlands art consultant firm Onderneming & Kunst (Enterprise & Art).

Queen Mary 2 is the largest passenger ship ever built, and she possesses an art collection worthy of her status. Cunard Line has always been a patron of the arts, and Cunard liners have always been repositories of fine art. QM2 continues this tradition in grand style.

Works will range FROM free-standing bronze and glass sculptures to expansive murals, oil paintings, watercolors, mosaics, reliefs, models, and many other works. Major elements of the liner's art collection include a sculptural relief of some 450 square feet, a 300-square-foot tapestry, a number of oil paintings in the range of 250- to 300-square-feet each, several groupings of oversized bronze sculptures and a trompe d'oeuil painted ceiling of 1,200 square feet. In addition, the company supplied some 4,000 limited edition prints for use in cabins and companionways on board.

Cunard Line, one of the world's most recognized brand names with a classic British heritage, has been in the business of providing luxury ocean travel for more than 160 years. The Cunard fleet includes famed Queen Elizabeth 2 and Caronia (formerly the Vistafjord).

Cunard Line is a unit of Carnival Corporation (NYSE: CCL) and a member of the exclusive World's Leading Cruise Lines alliance, which also includes Carnival Cruise Lines, Seabourn Cruise, Holland America Line, Costa Cruises and Windstar Cruises. Together, these member lines share a commitment to quality and value, offering cruise vacations that appeal to the widest range of lifestyles and budgets and sail to some of the world's most exciting destinations.