Silversea Cruises


COMPETITION-ELIMINATING DEALS AND AMENITIES


Huge Discounts ENDS OCTOBER 22 2023, Shipboard Credits ....


Quick, Low-Cost Quotes - Contact Us by Email or Phone.
Before making any decisions or options for your SILVERSEA Cruise , we strongly recommend contacting us first. Don't settle for any other options until you've reached out to us.
WHY NOT GET THE BEST DEAL AT THE OUTSET?


Contact Deluxe Cruises for Personalized Service, Lowest Prices. Need Planning Help? Our Personal Consultants Can Assist. Call or Email Now!
E-Mail: Info@DeluxeCruises.com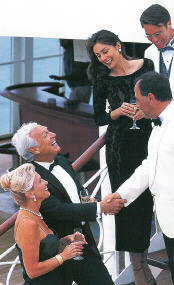 Shipboard Attire ranges FROM casual to formal. Casual resort wear is appropriate for daytime aboard ship or ashore. Evening attire falls into three categories: casual, informal, and formal. Casual evening dress does not require a jacket for men. On informal evenings, ladies usually wear dresses or pantsuits; men wear jackets, and ties are optional. Appropriate formal evening wear for women is an evening gown or cocktail dress; men wear tuxedos, dinner jackets, or dark suits. Sailings of eight days or less feature two formal nights, while longer cruises typically have three or four formal nights.