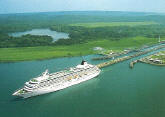 Note: Guests on the December 11 Cloud departure booked four months prior to sailing, may take advantage of a specially priced program for $295. Guests must be booked by 8/14 to obtain this special price. This is the 2-night pre-cruise program.
Overview of the Pre-Cruise Package
Silversea offers a pre-cruise or post-cruise tour of Panama and the Canal. You tour Old Panama with its grand cathedral, lavish public buildings, warehouses once filled with Peruvian gold, and once-thriving slave market. Contrast this with the former U.S. Canal Zone where thoUSAnds of Americans lived and worked. An expert will explain the inner workings of the Miraflores Locks while you sip champagne and enjoy views of transiting ships as the sun sets. In a special private venue, enjoy a gala dinner, hosted by a Panamanian dignitary. Next day board a train and travel FROM Pacific to Atlantic. The scenic ride takes you along the canal, through dense tropical jungles, banana plantations and old colonial towns to the port city of Cristobal.
Included in your tour are two nights' accommodations at the Miramar Intercontinental Hotel in Panama City, breakfast daily, one lunch, a gala dinner, the sightseeing, including the scenic train ride, and all transportation and transfers.
The Miramar Inter-Continental is a twin tower high rise hotel set directly on Panama Bay, in the banking and shopping district. A Gourmet restaurant, piano lounge, and pub are just a few of the entertainment venues offered at the Miramar. The guest rooms are spacious, with in-room Internet, mini-bars and large-screen TV's with movie channels. Tennis courts and a health spa featuring a large outdoor swimming pool help make the Intercontinental the best address in Panama City.
Two-Night Post-Cruise Package In Detail
(Voyage 2229; Dec 2-12, '02 )

Day 1 Panama City, Panama
You begin by the great train ride FROM the Atlantic to the Pacific on the same route that thoUSAnds of Americans took in search of gold during the late eighteen hundreds. The scenic ride takes you along the Panama Canal and through dense tropical jungles of the Soberania National Park. Over bridges and Islands, through banana plantations and old colonial towns. Once in Panama City, transfer to your hotel, the Miramar Intercontinental, described above, and a vacation in and of itself.

Day 2 Panama City, Panama
Besides seeing today's Panama, you will drive past Old Panama, founded in 1519 and destroyed by Pirate Morgan in 1671. The ruins of churches and convents, colonial palaces, bridges and military buildings attest to the grandiose past of this city. Upon leaving Old Panama, the road leads you to many historic monuments and sights as well as a short detour into the posh neighborhoods of Coco Mar and San Francisco, past the former residence of Manuel Noriega. Finally, your tour will lead you through the former Panama Canal Zone. Early this evening, you will view the inner workings of the canal, learn of its rich history and marvel at this man made wonder. A local expert will share with you his extensive knowledge of the Canal while you sip champagne and enjoy the view of the transiting ships as the sun sets. Next is a gala dinner served at a very special private venue. Enjoy fine dining hosted by a Panamanian dignitary.

Day 3 Panama City/Homeward
Enjoy included breakfast at the hotel. Following breakfast, check out and depart for your homeward flight based on your flight schedule.

Complimentary Spirits Await
Return to Your Suite and Sail Away to The Next Adventure
Entertainment and Dancing Await You