SeaDream Yacht Club Cruises 2018-2019-2020


ALWAYS Less Than Buying Direct.

Huge Discounts Ends June 17 2018,
Shipboard Credits ....


SeaDream Yacht Club I Calendar 2018

SeaDream Yacht Club I Calendar 2019

SeaDream Yacht Club I Calendar 2020

SeaDream Yacht Club II Calendar 2018

SeaDream Yacht Club II Calendar 2019

SeaDream Yacht Club II Calendar 2020
Get access to a world of benefits unique to your needs. We will go beyond simply offering extraordinary amenities. We extend benefits that meet your aspirations, personality, and tastes.

All Inclusive
Gourmet Food,
Cocktails, Wines,
Stocked Mini-Bar,
Gratuities,
Water Toys,
Room Service 24/7


Deluxe & Casual
Just Relaxed Pampering
On A Luxury Yacht, With
Choices for Activities, Sunning and Relaxation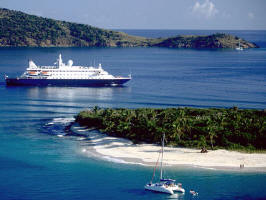 Golf
Golf Simulator: 30 Golf Courses


Water & Land Toys
Wave Runners, Kayaks, Sailboat
Water Skis and Wake Boards
Snorkel Gear
Mountain Bikes (10 of them!)


Relaxation
Outdoor Pool; Whirlpool
Hammocks; Captain's Chairs and Binoculars
Private, Double Balinese Sun Beds
Gymnasium with State-of-the-Art Equipment
Asian Spa: Massage, Steam, Sauna, Thalasso Tub
Piano Bar; Pool Bar; Top of the Yacht Bar
Card Room; Boutique; Casino; Library with Laptops
Water Sports Platform Marina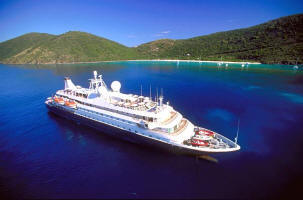 Maximum of 110 Pampered Guests
Length: 344 feet
4260 Gross Tons

Yacht Club Staterooms
Luxurious 195 Square Feet
Commodore Club Suites
Double-Sized Staterooms
Generous 390 Square Feet
One Owner's Suite
490 Square Feet
Separate Bedroom
Bath with Sea View
Guest Bath
All Suites
Refrigerator; Private Safe; Hair Dryer
MP3 Juke Box & CD/DVD Player
Wireless Keyboard for E-Mail & Internet
Flat Screen TV
Direct Dial Telephones
Fully Air-Conditioned
Individual Thermostats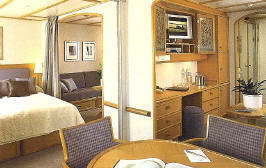 The Commodore has 390 square feet and features his and her restrooms with shower massage units, his and her closets, a table and chairs for four, as well as two couches. There are two entertainment systems, including flat-screen TVs, DVD, and CD. (Deck 2 Suites Have Portholes Instead of Picture Windows.)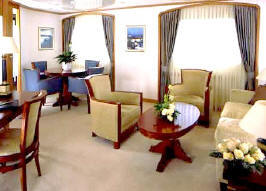 This is a dramatic, 490-square-foot space for highly discriminating guests seeking the ultimate in the yachting lifestyle. This suite includes a lavishly appointed separate bedroom, a living room with a large dining table, as well as a bathroom featuring a fine view of the sea, and both shower and tub. There is a separate guest bathroom.